Where to have fun and do sports in Pilsen and surroundings
Paintball

PP Aréna – sport-ground SPA Pilsen (about 400m east of the main Pilsen square, near the city center). Right next to the spa, there is the tram station (trams 1 and 2).

Park Bory and mini-golf – One of the largest parks right in front of the Máchova dormitories offers the possibility to have a rest and to do various sports, including futsal or Frisbee. Tram terminus Bory – tram 4.
Swimming pool Slovany –Pool, hot tube, water slide, wild water. Open daily, all year round. Tram 2, direction Světovar, tram station Bazén Slovany.
Ice skating – Winter stadium Pilsen – ČEZ Arena. Opportunity to borrow ice-skates. Trolleybus 13 – direction winter stadium. Open from October to March.
Bowling – OC Pilsen Plaza. Open daily.
Fitness - Avalon Fitness , Fitness, Aerobic, etc.
Laser game – Atom area Lochotín, Tram 4, direction Košutka, Sokolovská station. Walk about 10 minutes through the microdistrict on your right. It is above the campus. Ask for Atom Lochotín.
Where to go for trips in Pilsen and surroundings
Bolevec ponds – They are near the students dormitories and offer the possibility to go for a walk, to go swimming in the summer, to attent the Pilsen "Beach Party" or to have a barbecue. Tram 1, direction Bolevec – tram terminus.
Zoo Pilsen – together with the botanical and Japanese garden and Dino park. Let´s go to see plenty of species of animals – both exotic and typical Czech domestic ones. Tram station Zoologická zahrada, tram 4, direction Košutka.
Ruin of the castle Radyně – the ruin of the castle Radyně together with the exposition of mysterious creatures and a beautiful view of the whole Pilsen region. Go by train to Starý Plzenec and then continue up the hill.
Kozel chateau – classical hunting chateau from the 18th century with a beautiful large park and minigolf. By train to Šťáhlavice (rozcestí
Plasy convent – unique convent near Pilsen. Easily reachable, it is worth visiting. By train to Plasy.
Klatovy – town full of mysteries and mummies. Let´s visit the famous Black Tower or catacombs in Klatovy. By train to Klatovy.
Spa towns – a little bit further from Pilsen, in the western part of the country, there are classical spa towns. Apart from famous Karlovy Vary, you can visit Mariánské Lázně, Františkovy Lázně or Lázně Kynžvart.
Where to go for trips in the Czech Republic
The Czech Republic – and its location in the heart of Europe – offers plenty of possibilities to travel to near Poland, Germany, Slovakia, Austria or Hungary, which is not very far either.
One of the most amazing places are situated right here in the Czech Republic.
Apart from well-known Prague or Karlovy Vary, there are many beautiful castles and chateaus. Among the most famous and the most visited places, you can find the castle Karlštejn, Hluboká nad Vltavou chateau or the castle Rabí or Loket.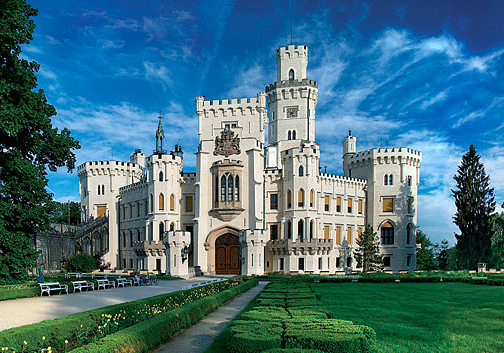 The Czech Republic can take pride in
many monuments registered to the UNESCO heritage list
, which are worth visiting: Prague (the historical center), Telč (the historical center), Český Krumlov, Žďár nad Sázavou, Kutná Hora, Lednicko-valtický area, Brno, Třebíč and a many others.
Among the most visited and favourite places, you can find Moravia – because of its viticultural regions and beautiful nature In the Pálava area. As for the towns and cities, we definitely recommend to visit not only Brno, but also Mikulov, Znojmo or Zlín.
Zlín is one of the 13 towns in the world which can take pride in their own shoe museum
. The local exposition offers not only the presentation of shoes from all the continents, but also some real curiosities which are worth seeing.
Thanks to the location of the Czech Republic, winter sport lovers will be in hog heaven too. The whole ountry is surrounded by mountains. That is why it is ideal for the winter sport enthusiasts. Among
the favourite ski areas
you can find:
Krkonoše mountains– Špindlerův Mlýn, Pec pod Sněžkou, Harrachov and Rokytnice nad Jizerou
Jizerské mountains – Bedřichov, Středisko Severák, Tanvaldský Špičák
Beskydy – Pustevny, Dolní Lomná, Lysá Hora, Javorový vrch, Kohátky, Bílá etc.
Šumava mountains– Lipno, Zadov, Železná Ruda
Orlické mountains – Říčky, Deštné, Čenkovice
Jeseníky – Praděd, Ovčárna, Červenohorské sedlo, Ramzová, Petříkov
Krušné mountains – Klínovec, Boží Dar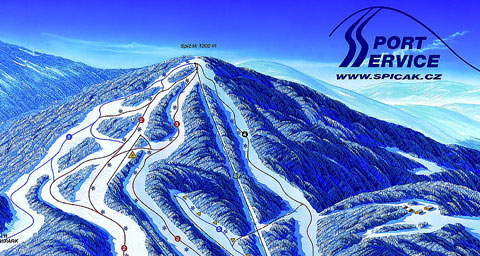 Finally, we would like to invite you to an activity which is extraordinarily popular all over the world –
Geocaching
. This game has thousands of fans in the Czech Republic. The game is becoming more and more popular in the Czech Republic. It combines sport and hiking and its aim is to find a treasure (cache) situated in a place with given geographical coordinates, using the GPS system. It is estimated that there are 30 thousand caches in the Czech Republic. The whole world is currently hiding over 1,5 million of them.
The list is far from finished... For more information see:
http://www.czech.cz/en/Tourism
http://www.raileurope.com/europe-travel-guide/czech-republic/index.html
http://www.tripadvisor.com/Attractions-g274684-Activities-Czech_Republic.html